Dispatch from the 2017 Annual Meeting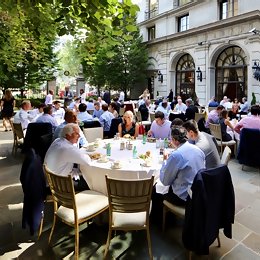 After a delightful outdoor lunch in the sunny and swampy (this is D.C. after all) garden of the St. Regis hotel, we elected the 2017-2018 BancAlliance (BA) Board in a resoundingly enthusiastic and unanimous election. Thank you to all those who agreed to serve on the BA Board! Before the lunchtime sugar rush had time to subside, we jumped right into an informative presentation from our lending partners at KeyBanc about current conditions in the middle market. One key takeaway was that lender protections are under constant pressure, and maintaining credit discipline is critical, even if means lower origination volumes.
We then moved right into the first edition of BA Commercial Loan Bingo, where members who correctly identified BA portfolio loans won brownies from the Dog Tag bakery (a great bakery with a mission: learn more at http://www.dogtagbakery.com/). Those that won Bingo received the always useful prize of an Amazon gift certificate – all in all, our first foray into party games seemed like a success and members had a number of suggestions to make it even better in the second edition.
The keynote session followed, featuring BancAlliance Co-founder and Congressman John Delaney interviewing David Reiling, CEO of Sunrise Banks in St. Paul, MN. Members enjoyed the lively back and forth between our two speakers, and many later commented on how much they enjoyed hearing about David's very proactive approach towards innovation in community banking. We then broke for our first round of breakout sessions:
Q&A with KeyBanc
Bank Benefits of the Consumer Program
Small Business User Group (only open to current program participants)
New Initiative: Acquiring In-Market Small Business Loans
After the four lively sessions, which drove the room's volume up several decibels, we adjourned for cocktails, dinner, and selfies at the W Hotel (if you haven't been up to their roof, we would highly recommend it for its amazing view of downtown D.C.).
We began the second day with updates on the BancAlliance network, provided by senior members of the Alliance Partners team. Attendees heard about the strong growth of the network in 2017 – with 28 new members so far this year – and learned about portfolio performance to date.
We moved from there on to AP Commercial LLC Compliance Jeo"parody," where (at a BA Director's request) we demonstrated how our own annual compliance training masquerades as an incredibly competitive, cross-department game show that results in a free lunch for the winning team. There were all sorts of antics up on the stage, but a winner was finally determined in the tense round of Final Jeo"parody."
We then hosted the annual regulatory panel, where members discussed recent regulatory interactions and shared suggestions for best practices. As always, this session generated many thoughtful questions from the audience.
We concluded with two more rounds of breakout groups, covering the following topics:
Consumer User Group (only open to current program participants)
Small Business Platform Demo
Cashflow Loan Restructuring – What to Expect
2018 Environment and BancAlliance Initiatives: A Conversation with Alliance Partners CEO Brian Graham
Again, the sessions seemed to generate great conversations given the difficulties we had persuading everyone to switch their seats when it was time to start the third and final circuit!
Finally, we wanted to highlight the advent of BA program-specific user groups, as you may have noticed in the description of the breakout sessions. At the suggestion of the BA Board, we hosted the inaugural meetings of the Consumer Loan Program and Small Business Program user groups. These discussions, moderated by program managers, led to lively exchanges between current program participants. Based on the success of the initial meetings, we will begin regularly convening the user groups through teleconferences and in-person discussions at future BancAlliance member meetings.
Thanks again to everyone who joined us for the meeting.